Topol-M

Affiliation

GLA

Role

Artillery

Armament

Topol missiles

Armor

Light

Range

Very High

PRODUCTION

---

Cost

$1800

Produced by

Arms Dealer

Requires

Palace, General's Promotion

Availability

General Juhziz

The 
RT-2PM Topol
is an old Soviet ballistic missile launching vehicle acquired by the GLA. It is obtained from an Arms Dealer and requires a Palace on the battlefield to produce.

Topols requires spending a General's Promotion point to acquire.
Background
Edit
These slow, huge monstrosities carry warheads. One Topol missile is enough to wipe out a base and armies.

Junk Repair:
Topols can now self-repair slowly to full health.
The Topol-M can be upgraded from the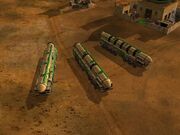 salvaged parts of destroyed enemy vehicles, improving its range and firepower. When fully upgraded, it can be more efficient in battles, and deadlier than usual.
Game unit
Edit
Because of it's large size and length, the Topol is a slow, unwieldy, and a poorly armored vehicle. It's range is extremely high, and deals heavy damage to enemies. 
Unlike other artillery, it's missile goes up and then comes down from the sky, hitting the target the player wanted. As being an artillery vehicle, it requires protection by other units all times, as it is useless against moving enemies.
Assessment
Edit
It has a very large blast radius, being great at crowd control.
It deals tremendous damage to enemies.
It has longer range than other artillery.
Unstoppable missiles. (Topol-M missiles are invulnerable as of ShockWave 1.2)
Cons:
Expensive.
Because of its size, it is a very slow vehicle.
It has a longer reload than other artillery.
Because of its blast radius and damage, it can deal heavy friendly fire damage.
Projectile is very vulnerable and easily be intercepted by anti-missile weapons.