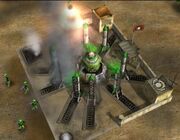 The SCUD Storm is the basic GLA superweapon. It differs from general to other, according to the general that uses it, excepting General Mohmar "Deathstrike" who uses a Soyuz Missile.
The SCUD Storm is composed of nine rockets, armed with explosive or anthrax warheads, depending on general:
Vanilla GLA: SCUD Storm armed with Explosive-Anthrax warheads;
Dr. Thrax (Toxic General): SCUD Storm armed with Anthrax warheads;
Juhziz (Demolition General): SCUD Storm armed with High-Explosive warheads;
Prince Kassad (Stealth General): Like Vanilla GLA, but can use Stealth to hide the superweapon.
All of them require 5 minutes cooldown.