Inferno Cannon

Affiliation

China

Role

Artillery

Armament

Artillery shells (Napalm, Anti-Tank)

Armor

Light

Range

High

PRODUCTION

---

Cost

$900 (Vanilla, Infantry)

Produced by

War Factory

Requires

Propaganda Center

Availability

Vanilla China General, General Fai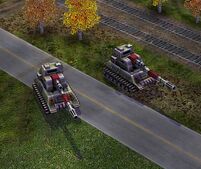 Inferno Cannons are self-propelled howitzers produced by China. These vehicles can be used by the Vanilla China General and General Fai.
Background
Edit
These howitzers fire napalm shells which are very effective against clusters of infantry, lightly armored vehicles and buildings. If 3 or more Inferno Cannons fire at the same target at the same time, they can create a Fire Storm, which can be deadly against everything (except air units). They can also fire Anti-Tank shells, which are powerful against heavier vehicles, but with the Anti-Tank shells, the Inferno Cannons are less effective against clusters of infantry. Inferno Cannons are more flexible than Nuke Cannons, mostly because of faster movement and not having to deploy in order to fire.
Inferno Cannons are projectile-based artillery. The projectiles cannot be shot down, intercepted or jammed.
Inferno Cannons suffer from the typical weaknesses of being an artillery unit: slow movement, weak armor, and are vulnerable to air threats. As usual, Inferno Cannons requires protection by other units.

Black Napalm: Deploy a new high temperature napalm fuel. ($2000)
+25% damage for all flame weapons, including Inferno Cannons. Fire Storms now take longer to expire and are even more deadly than before.                                             
Anti-Tank Shells: Equips Inferno Cannons with ramjet assisted shells. ($1500)
Inferno Cannons can now fire Anti-Tank Shells. More effective against vehicles, but less effective against infantry.

Artillery Training: Deploy battle hardened artillery crews. (General's Promotion, Vanilla only)
Nuke Cannons and Inferno Cannons are built as veterans.
Assessment
Edit
Excellent at crowd control; very effective against clusters of infantry.
Very dangerous when in groups of 3 or more; can create lethal Fire Storms.
Can outrange base defenses.
Anti-Tank Shells can take down heavy vehicles with ease when in groups.
Unavailable to General Kwai (Tank), Tao (Nuclear) and Leang (S. Weapons). Inferno Cannons have been replaced with Siege Cannons (Tao) and Grinder Cannons (Leang).
Weak armor; requires protection by other units.
Moves slow.
Not too powerful when alone; groups of 3 or more is recommended for maximum firepower.